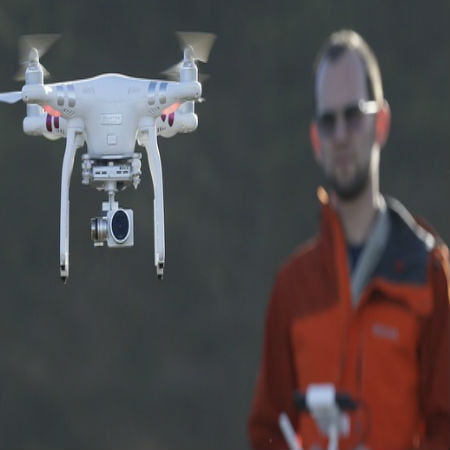 Federal air security officials have devised a better way of detecting unmanned aircraft when they fly near airports and airplanes, and they're working on it already. This new technology to detect drones was a development made possible thanks to a recently tested prototype technology.
FAA to Use New Technology to Detect Drones Flown over Airports
Every month, the Federal Aviation Administration (FAA) gets flooded with more than 100 reports involving unmanned aerial vehicles (UAVs), also known as drones, flying too close to a piloted airplane or an airport. The FAA and the Department of Homeland Security (DHS) take this as a very serious safety issue, as things could go wrong and properties worth millions of dollars could be destroyed.
Scroll down for video
Noticeably, it is becoming more and more popular for people to fly drones as a hobby or for general recreation. Oftentimes, the connection with these flying robots is lost and they wander off like a lost pet, ending up in unknown places without guidance and control. Sometimes they crash into buildings or trees, causing loss of properties. At other times, lost, out-of-control drones do hit people, causing grievous body injuries in most cases.
Hence, it is important to apply measures to prevent drones from breaking free of control when it is close to an airport such as using a GPS drone tracker. As a result, air security officials have laid down some registration guidelines to guarantee that airports and piloted airplanes are safe. The new technology to detect drones is geared toward making airports safer, authorities say.
"The explosive growth of the unmanned aircraft industry makes evaluating detection technologies an urgent priority," Marke "Hoot" Gibson, FAA senior adviser on UAS integration, pointed out.
According to him, the research is "totally aimed at keeping our skies safe, which is our number one mission."
The FAA has teamed up with DHS and information-technology company CACI International in a bid to solve these safety concerns. The FAA will still maintain its other duties, conducting ongoing education and outreach work, however.
The partnership between FAA and CACI will examine how CACI's prototype detection technology can be used to detect UAVs that are too close to airports and planes. The new technology to detect drones does this by using sensors to find UAS frequencies. It will then triangulate the signals, which will help to locate the operator as well as the device.
According to John Mengucci, CACI chief operating officer and president of U.S. operations, testing of the tech gave impressive results.
"The results of testing under our PathFinder agreement with the FAA at Atlantic City International Airport demonstrate that CACI's proprietary system, SkyTracker, performed as designed," Mengucci said. "SkyTracker successfully identified, detected, and tracked UAS in flight, and precisely located drone ground operators—all without interfering with airport ground operations. We are very proud to partner with the FAA and DHS to help ensure national airspace safety from the escalating UAS threat."
Watch the video below