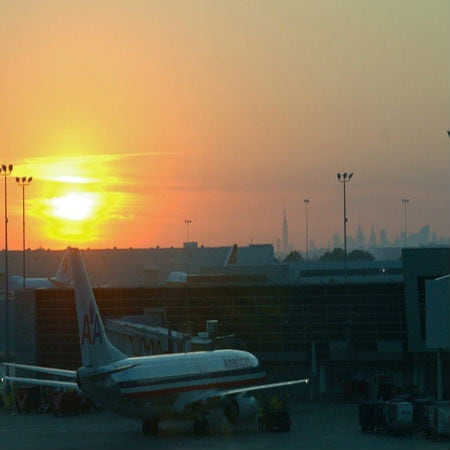 The most appropriate means to take down rogue drones is still on search by the Federal Aviation Authority. Institution of new registration regulations for quadcopters (signing up about 200,000 earlier this year) does not prevent someone from acting as fool – particularly close to delicate areas like airports. The FAA mentioned this week that it had been organizing examinations of a new drone-detection system designed by the FBI, evaluating the technology at John F. Kennedy International airport in New York.
Evaluation of Drone Detection System by the FAA
Scroll down for video
The FAA even made claims that it evaluated the system employing "five different rotorcraft and fixed wing" aircraft at JFK from May 2nd. The JFK evaluation involved extensive government inter-agency collaboration, and cooperation from industry and academia. The agency also mentioned that forty different evaluations were carried out, with the examination expanding on previous research carried out at Atlantic City International Airport.
That is basically all we know. However, we are oblivious of how the examination went. The success of the examinations or the components of the FBI's drone-detection system still remains unclear.
It should be noted that the FAA earlier signed a contract with a company to employ tech that has the ability to "passively detect, identify and track" drone operators by observing radio signals between the drone and the controller. This was to observe similar flights in the future and to prevent hazardous collisions between the drones and aircraft. However, it is a very competitive market and companies are using anything from jammers to net guns to eagles to overtake quadcopters.
Trying to know for sure the level of risk drones pose to commercial flights is a very difficult challenge. Some pilots flying close to airports and planes have made some accounts concerning this. Some have even proposed that a minute part of the growth is based on objects that are mistaken for drones; "large vulture", "fast moving gray object", "mini blimp", "red UAS or balloon", and "a UFO" were all misidentified as drones in a report by the FAA. Accounts of a collision between a drone and an airplane in the UK last month came out to be false. Some officials even proposed that the object in question "may even have been a plastic bag."
An investigation into the incident by the Air Accidents Investigation Branch (AAIB) was also closed. "We made initial inquiries but there was insufficient information on what object was involved for us to take it further," said a spokesperson for the AAIB. Early reports even stated that the plane – a British Airways Airbus A320 – incurred no damage.
This is, however, not implying that drones do not pose a risk. Just do not be alarmed that the FAA's detection systems are not just prepared yet.
Watch the video below