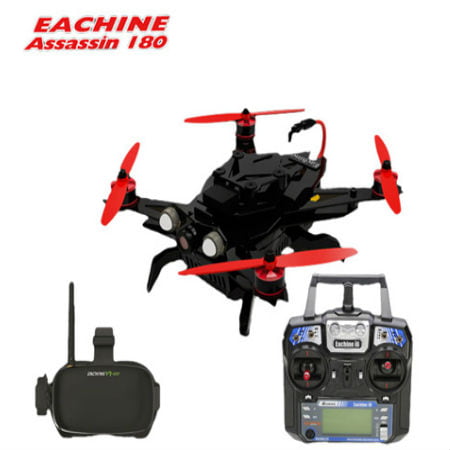 In 2015, company Eachine made a big stride in the market with their introductory 250 Racer, which gave them a massive increase in ranking among contemporaries. Not about to leave with just one hit gadget, the company is set on thrilling their customers once again with the release of the Eachine Assassin 180.
The Eachine Assassin 180
Scroll down for video
What does the Eachine Assassin 180 have to offer?
The Assassin is built with FPV in mind. In a look closer at the unique RC drone, it will be clear why the drone stands out from the rest on the market—with the quadcopter's pre-built and pre-configured body, it should be easy for you to fly it in no time.
Eachine Assassin 180 comes with GPS, LED lights that change color depending on flight direction, as well as transmission control.
So far, this is the most delicate Eachine, and this is especially designed for intermediate pilots who are trying their hand at FPV racing, although they are encouraged to fly at low power modes and on grassy areas so as to minimize damage.
Components of the Eachine Assassin 180
This FPV-enabled gadget has 5 main components:
First section—made up of legs and a plastic base, which serve as battery house
Second section—base board; this has motors soldered on it, as well as FPV transmitter lights at the bottom
Third section—middle structural board where motors and the core frame are affixed to
Fourth section—the top board, which houses the USB Port, FC Board, and GPS chip for navigation purposes
Final frame—the mount for the camera
If you wish to attach a radio receiver, it can be mounted in the available space between the third and fourth segment or between the middle and top boards. The Assassin 180 is powered by an 11.1V, 1000mAh 8 pin battery, which is especially designed for them.
The Eachine VR-007 FPV Goggles
The package also comes with VR-007 glasses, which are bigger and heavier than the conventional ones. Their size, however, should not make them uncomfortable to use as they are especially fitted for their use. The goggles can be charged via USB, and they take with them 7.4V 800mAh batteries.
On to resolution: the VR-007 goggles has a 4.3-inch, 480 x 272 pixel panel, so it's quality is not too high, despite what advertising says. However, don't worry too much about the quality, you have the option of adjusting sharpness, contrast, brightness, and saturation so that you can match your preferred video feed. The camera modes are in 16:9 and 4:3 ratios and with a single button located close to the receiver antenna for channel scanning.
There is no shortage of sharp images from the feed'; however, there are some problems of images getting distorted, especially if the resolution is increased. At $399.99, the Eachine Assassin 180 RTF kit is available for your drone videograph pleasure as it is packed with everything you need for your FPV competition, VR-007 FPV headset included.
Watch the videos below
Let us help you. We'd be delighted to answer any tracking questions you have or discuss the options in more details.