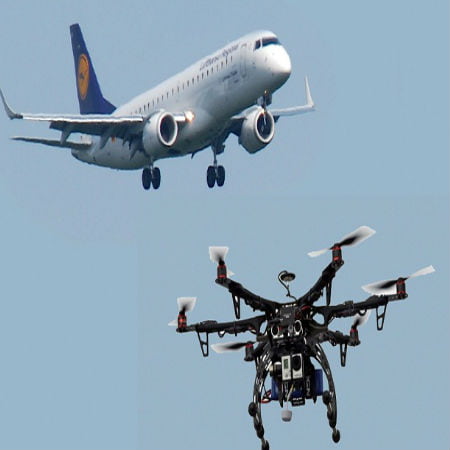 As technology evolves, pilots are increasingly facing more and more navigating challenges in the sky. Some of the challenges used to be more planes, more bad weather, more birds, but now, it's about more out-of-control unmanned aerial vehicles or drones. Who wins in this drones vs planes fray?
The growing numbers of drones are becoming troubling to the extent that observers could not really ascertain the ruler of the sky between drone and plane.
Even if it is not certain, yet that the collision between British Airplane and an unknown object on approach to Heathrow Airport recently involved a drone, there have been many other reports of instances of near-misses between planes and unmanned aircraft in the past year.
Drones vs Planes: Who Rules the Sky?
Scroll down for video
With regards to this clash of drones vs planes, the rules have always been there. Drones are not allowed to operate above 120 m and within 5.5 km of an airport unless the operator has obtained a license and permission and cannot be operated close to a fire and emergency situation.
Reports around the world indicate a growing troubling concern as it appears that drone users are ignoring the globally accepted rules of not operating above 120 m and within 5.5 km of an airport.
In 24 recorded cases, drones came within 15 m of a manned aircraft, and in 11 cases the pilots of the aircraft made evasive maneuvers to avoid a drone. The report reveals that 91.9 percent of the cases occurred above 120 m, with the average altitude 1,000 m.
The trend is becoming disturbing to experts as there are likelihood of the incidents getting worse as drone sales soar due to lower prices and greater capability.
In US, it is required that drones users must register at a cost of $5, but only 400,000 users so far have been registered. It is estimated that there are about 2.5 million users.
Britain and Australia do not require registration yet, but both countries maintained same basic rules of banning flying at an altitude of above 120 m and within 5.5 km of an airport.
A positive development, however, is that as regulators around the world are struggling with the new drone phenomenon, responsible manufacturers such as China's DJI have introduced geofencing technology into its drones to prevent them from being flown into dangerous areas.
While this is good for the responsible users, hacks can be found online by irresponsible operators to work around the restrictions.
In the drones vs planes clash, that is where the problem lays, particularly regarding drones. Without a global mandatory on registration for owners and severe penalties, irresponsible operators will continue to pose serious threats to aviation.
More and more cases of these drones being operated around major airports are being reported.
At New York's JFK airport this past January, a JetBlue A320 pilot reported a near miss with a drone at about 2,000 m, while a Southwest 737 pilot reported one passing just below his plane as it came into land at Baltimore.
In September last year, a drone came within 20 m of a 70-seat EMB170 jet in the skies above the British Houses of Parliament.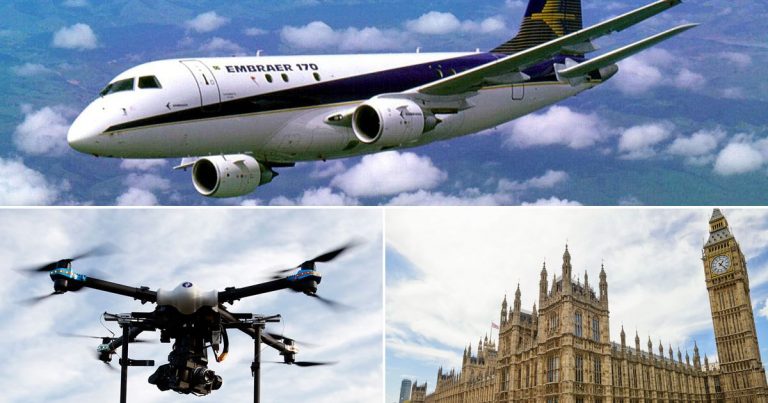 All these call for concern with air travel set to double over the next 20 years and drones sales climbing 30 percent a year, tragedies because of reckless operators could be inevitable. Thus, a drone GPS tracker is crucial to monitor UAVs and prevent them from crashing or flying away.
There have been several calls for all drone operators to at least be licensed, with some experts saying that a competency test is also essential.
Watch the video below