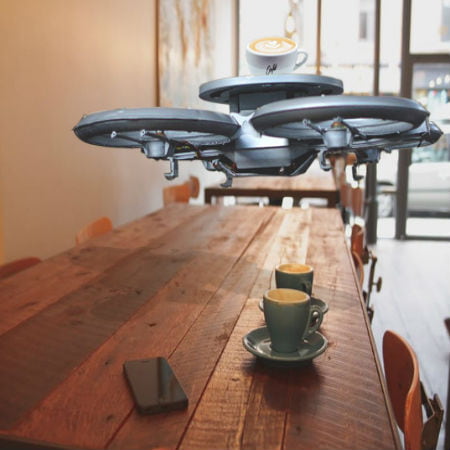 A Dutch university now has a café where tiny unmanned aircrafts work as servers — the first in the world.
The drone café will be open all weekend as part of the celebration called 'Dream and Dare Festival', marking the 60th anniversary of the Eindhoven University of Technology.
There are twenty students working on the project, and it took them nine months to build the autonomous drone, which proves how a small device can be an important part of life.
The Interactive Drone 'Blue Jay'
The drone, which they named Blue Jay, looks like a small white flying saucer with a luminescent strip for eyes, flies to a table, and hovers as it takes a client's order, who points to the list to signal what they would like.
Scroll down for video
"The blue eyes of the first drone loads up by scanning the list to register the order," said Hartjes. "Once it's fully loaded, then the order is ready and another one comes with the order in a cup in the grip."
Four different alcoholic and non-alcoholic cocktails are offered at the café, which are colored either green or bright blue—the exact color of the drone's "eyes."
Underneath the drones are a set of pinchers, which carry the drinks. This just proves that these machines could be used to carry out important missions such as medicine deliveries and tracking down burglars.
It costs US$2,235 to make each drone, and it is funded in a project by the university, which according to the students aims "to give a glimpse of the future."
The drones can fly within buildings and find their way even in crowded interiors with the help of sensors unlike other drones, which rely on a GPS system. They also have long battery life. According to the students, there is a reason the drone was given such name. They said in a video presenting their work, "The Blue Jay is an intelligent bird that lives in complex, social environments."
Potential Uses of Drones
The students believe the use of the drones can be limitless as they can be used as extinguishers to put out fires, alarm systems to warn of intruders, or mini-servants that would respond to simple commands like "Get me a beer bottle."
"We believe that one day, domestic drones will be a part of society. One day, a drone could be a friend," says one of the students behind the project.
A beer-pouring robot that understands body language and knows when someone wants another drink was developed in 2013 by American students. The robot, with the help of Microsoft Kinect sensors and 3-D cameras, was able to analyze its surroundings and figure out its owner's needs. A database of videos has been embedded in the robot, showing 120 household tasks to identify close objects and generate a set of possible outcomes and choose which action it should take by itself.
Watch the video below