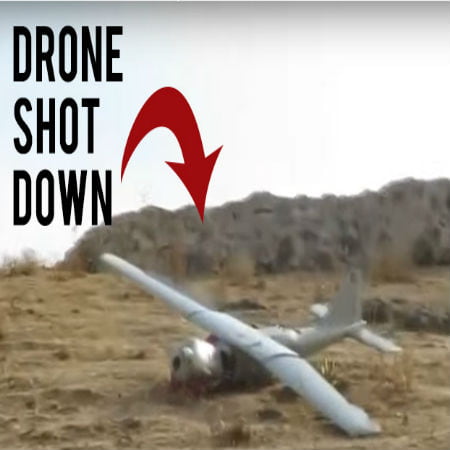 The Russian defense ministry has strongly denied ownership of the drone trespassing which landed in Syria. Syrian authorities had found the aircraft, an Orlan 10 drone, very close to the Turkish border in Aleppo, Syria.
A Deputy Chief of the Russian General Staff, Col General Andrei Kartapolov while speaking at a meeting with foreign military attaches said: "I state with absolute responsibility that all our drones are either performing tasks or staying at the base".
The U.S. believes it was Russian as the drone was undoubtedly not American. This was disclosed by a U.S. defense official who opted to remain anonymous as he wasn't authorized to discuss details of the incident.
Scroll down for video
History of Turkey encounters with a drone trespassing
Turkey, however, has shot down a Syrian military jet, a helicopter and a surveillance drone that reportedly strayed into the Turkish airspace and it wasn't clear whether this latest incident of shooting down the drone is linked to any of the previous incidents especially the unidentified drone that was shot down by Turkish airplanes in October 16. Statements from the Turkish military confirmed that a drone had indeed been shot down, after it had come 1.9 miles into their airspace, by its jet after it continued flying despite three warnings, in line with its rules of engagement.
There were unconfirmed reports that the Turkish military had shot down a Russian jet after it violated its airspace on Saturday despite warnings to Russia not to invade its airspace.
Turkey, which patrols the border with F-16s, had intercepted a Russian jet in its airspace earlier this month and forced the plane back into Syria. Officials from Russia were quick to apologize and soothe Turkey's anger over the violation that had led the Turkish Prime Minister to threaten to shoot any plane that strays into its airspace in the future.
To forestall the re-occurrence of such incidents Moscow sent a high powered military delegation to hold talks with Turkey in Ankara.
Syrian troops, supported by Russian air power, have pressed an assault against rebels in Central Syria and launched another offensive in the northern province of Aleppo to try to recapture territory, according to activists and the government.
There are sightings and confirmed reports that Russian bombers entered the British airspace prompting Typhoon fighters to forcefully push the Tupolev-160 blackjacks that were undoubtedly owned by the Russian Military.
In another incident, this time in May, a Briton Steve Bradley, outside his home in Lancaster, took pictures of a Russian Antonov An-30 armed with five high-resolution cameras that had blatantly violated the British airspace.
Watch the video below