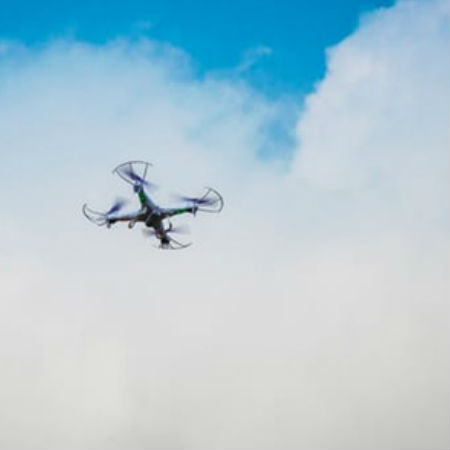 The Emirates' Civil Aviation Authority on Monday declared the International Airport Base, the Palm Jumeirah around Skydrive Dubai and Al Maktoum Airport as no-fly zones for unmanned aerial vehicles(UAV) while permission will be required before operating drones in nine other designated areas including Downtown Dubai around the Burj Khalifa and the Skye Drive Dubai desert Campus."Some no-fly zones are very dangerous area to attempt to operate", disclosed Micheal Rudolph, Head of Aviation Regulations and Safety at the World Aviation Safety Summit. "We need to look at the environment too, where there are sensitive areas. We try to find synergies between operators but we also need to keep airspace of Dubai safe", he added.
Scroll down for video
The law that requires the registration of drones was enforced last April, three months after a recreational drone strayed into the path of a plane at the Dubai airport and grounded the passenger plane. A month earlier, an encounter with a drone resulted in the shutdown of the Emirate's airspace for 55 minutes which caused the economy to lose Dh 3.7 million per minute. "We can't afford to have that again, which is why we started with the process of registration", said Rudolph. The registration cards will cost commercial operators of drones Dh 500 and hobbyist Dh 50.
Newly Developed Drone Surveillance System, RPAS
The Aviation authority also revealed a surveillance technology on Monday. This technology was demonstrated to the audience of aviation regulators, operators, manufacturers and pilots at the summit. The remotely piloted aircraft system (RPAS) was designed to detect any drone flying in any of the restricted areas. "This technique was developed in Dubai and is unprecedented internationally", said Khalid Al Arif, Director of standards and regulations at Dubai Civil Aviation Authority. "For example, if you determine an area of a defined surface of a half hectare, we can visualize the drone with high accuracy, its path, elevation and location", he added. He asserted that Federal Authorities, airports and airlines will have confidence in the device. "We can see this live and the video footage can even be sent to the police. Regardless of the threat, we are always on alert and we are watching what is going on worldwide in terms of security", he added.
The government, hobbyist, professionals, commercial and temporary users are the five categories of drone operators that will register with the authority or face penalties. The authorities expect that about 500 drones will be registered by the end of this year and has performed 15 trials with RPAS. Rudolph said, "We are looking at controlling commercial and high profile professional drone operators. We need to look at a more delicate way to deal with hobbyists and those involved in clubs like drone racing because we're getting more requests for videography and surveys in what we call sensitive areas in proximity to the airport and could have an effect on commercial operations".
Reuben Morales, General Manager of Corporate Safety and Security at Hong Kong Airlines disclosed that the surveillance technology will give airlines a new level of confidence. "If we visit Dubai, Europe and North America where we see that standards are being enforced and in place, it makes operator's work easier because we dedicate less resources to take over part of the work", he said. Thus, creation of separate flight paths for drones will ensure secure airspace.
Watch the video below