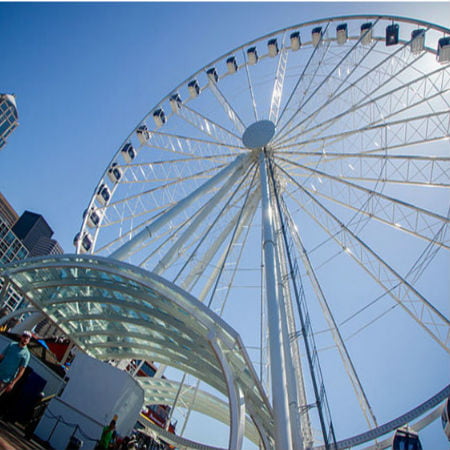 It was reported the Seattle's Great Wheel was struck by a drone on November 11, 2015, shutting down the waterfront attraction. Luckily, no one was injured. The incident reportedly occurred at about 4:45 p.m. Accounts from employees explain they heard a loud "thud" and saw a drone had crashed onto a plastic table on an outdoor patio area.
Drone Gets Caught in a Ferris Wheel's Spikes
Scroll down for video
"I can't figure out why somebody would fly a drone so close to other human beings," says Michael Fuqua, who works at the Great Wheel. "I don't get it. I just don't understand it."
Fuqua heard the crash and saw its aftermath, while Great Wheel security manager Wayman Earls III claimed he saw the whole thing as it unfolded.
"Just thank goodness no one was on the deck and no one was hurt," says Earls. "It looked like they may have been trying to fly the drone through the spokes and careened off of there. From that height, anything it landed on was going to have some damage."

Seattle Police Efforts
Seattle police took over the drone while searching for the owner. Great Wheel staff said the area around Pier 57 is a no-fly zone. However, KING 5 reached out to both the FAA and Seattle Police about the exact rules for flying drones in that area as well as the potential consequences of breaking the rules by the drone owner.
According to police spokesman Mark Jamieson, Seattle Great Wheel security workers reported the strike to police around 4:45 p.m. Upon arriving at the deck, the officers looked for possible damage and confiscated the aircraft. No injuries or damages were reported.
"At this point, we don't know who was operating it," Jamieson says. "No one came forward while we were investigating; security didn't have any information when we were there."
According to the Seattle Great Wheel's Web site, the wheel on Elliott Bay is believed to be the largest of its kind on the West Coast, standing 175 feet tall. It has opens year-round and can hold up to 300 passengers at a time.
Jamieson reported that drone strikes are fairly uncommon, recalling only one other incident when a drone crashed into a downtown Seattle building and then struck a 25-year-old woman in the head at the Pride Parade this summer.
"It careened off one of the spokes of the wheel and crash-landed on the upper deck of the Fisherman's Restaurant," says security guard Wayman Earls III.
It smashed through a table on the deck and broke a few propeller blades.
"It crashed into the table and broke the table. We have plastic all over," said Seattle Great Wheel manager Michael Fuqua.
The Ferris wheel was stopped, passengers unloaded, the ride inspected, and no damage was found.
"There were people on the wheel (at the time) and I would say 99 percent didn't have a clue what was going on," says Fuqua.
Fuqua also adds that the area is supposed to be a no-fly zone.
Incidents in this area are exactly the sort of thing the proposed drone registry is expected to address. By registering every decent-sized consumer UAV, the cops will be able to track down the owners easily. Threat of punishment will go a long way to deter future offenders from violating rules and regulations.
Watch the video below