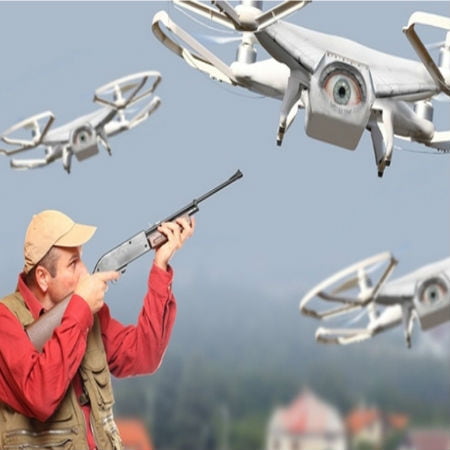 Is drone hunting a new sport? The owner of a drone store just outside of Nashville reported that two of his customers' drone was shot down earlier this year.
A Drone was Shot Down for 'Trespassing'
Scroll down for video
The incident is reminiscent of others that occurred last year in California, and again in Kentucky, when the shooters were cleared of local firearm charges. As more and more people have acquired drones for personal use, it is still dangerous for them to be paired up with perceived privacy violations and firearms.
Byron Brock, an owner of the store named Vivid Aerial in Whites Creek, said that according to one of his customers, Gary Sammons, his new drone was shot down above his home in Rutherford County. "[Sammons] and his son were flying, and they were looking at their property, and they noticed an unfamiliar vehicle nearby, so he flew over the front of the property—he got lower than I would have gotten—he was at 85 feet and yet still off of his own property," Brock shared. "A gentlemen in an 18-wheeler pulled out a shotgun and shot it three times. The drone was maimed a little, two propellers were damaged, but he was able to land it."
The shooter, who was not publicly named, was not charged with any crime.
However, it was not the only drone that was shot down in the area. Brock also mentioned that another customer, from Hendersonville, had a drone shot down while going over a neighbor's property. The pilot did not even make any attempt to retrieve his drone.
Legal scholars have wondered about the parameters regarding drone use. For instance, there is no clear view of whether or not flying a drone over private property is considered trespassing. American courts currently don't have a way to address the situation, and the best law applicable could be from a ruling back in 1946, way before drones were even feasible. In the case of the United States v. Causby, the Supreme Court ruled that a farmer in North Carolina could assert property rights up to 83 feet in the air but did not draw a firm limit.
The ruling read,
"The airspace, apart from the immediate reaches above the land, is part of the public domain. We need not determine at this time what those precise limits are. Flights over private land are not a taking, unless they are so low and so frequent as to be a direct and immediate interference with the enjoyment and use of the land. We need not speculate on that phase of the present case."
The Federal Aviation Administration does have its own set of rules regarding drones, and they have reiterated that shooting at any aircraft, drone or otherwise, is unwise and illegal.
"An unmanned aircraft hit by gunfire could crash, causing damage to people or property on the ground, or it could collide with other objects in the air," FAA Spokesman Ian Gregor stated. "Shooting at an unmanned aircraft could result in a civil penalty from the FAA and/or criminal charges filed by federal, state, or local law enforcement."
At this point, however, the FAA has not provided any statistics regarding incidents of drone-related shootings.
On a different note, a GPS-guided drone would be safer. Hence, invest in a real-time GPS tracker for your drones for thorough monitoring purposes.
Watch the video below