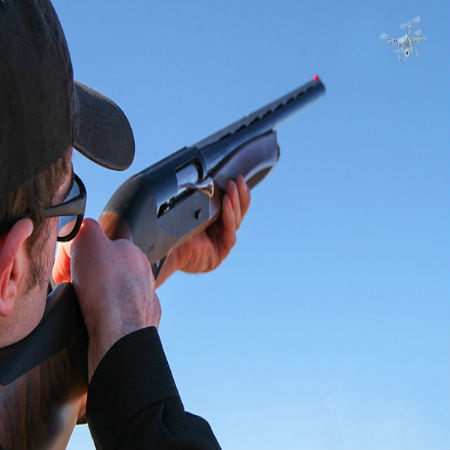 Deer Park, a sleepy town in Colorado, is offering a $100 bounty to anyone who shoots down unmanned drones that seem to be property of the US government, and all it requires from the hunters would be to ensure that they are licensed to hunt drones, which cost $425 fee and usually issued after a detailed background check.
Are Drones an Invasion of Privacy?
Scroll down for video
Matt Rosendale, a Republican member of the Montana Legislature, unveiled an ad that began from the viewpoint of the drone, showing Rosendale shooting it down with a rifle and saying, "If you send a drone to spy on me, I'd take it out." This demonstrates public sentiments toward drones.
Ars was told by the owner of a drone store that two of his customers have had their drones shot in Nashville.
There was a similar incident last year in California and then Kentucky. The shooters in both cases were cleared by competent courts on local firearm charges.
The blatant disregard by drone operators for the right to privacy has enraged citizens, and now drones, privacy violations, and firearms are becoming a dangerous mix.
When Drone Invades Privacy
Bryon Brock, Owner of Vivid Aerial in Whites Creek, confirmed that he had seen the incident as it happened. He explained that a man named Gary Sammons was flying a drone-the DJI Phantom 4 above his home in Rutherford county last Saturday.
He said, "Sammons and his son were flying and they were looking at the property and they noticed an unfamiliar vehicle nearby so we flew over the front of the property. He got lower than I would have gotten, he was at 85 feet and yet still off his property. A gentleman in an 18 wheeler pulled out a shotgun and shot it three times. The drone was maimed a little, the propellers were damaged, but he was able to land it."
He lamented that the shooter who had not been publicly named was not charged with a crime.
"Another customer in nearby Hendersonville had a drone shot down when it was over a neighbor's property. That pilot made no attempt to retrieve the drone," he added.
There is growing tension from members of the public about drones and people are unsure of the legal rights they do have in cases when a drone "invades" their property. The American courts have still not made any ruling that can be used as reference. However, in 1946, the Supreme Court ruled in the United State vs. Causby case that a farmer in North Carolina could assert property rights up to 83 feet in the air.
The justices concluded that "the airspace, apart from the immediate reaches above the land, is part of the public domain. We need not determine at this time what those precise limits are. Flights over private lands are not a taking, unless they are so low and so frequent as to be a direct and immediate interference with the enjoyment and use of the land. We need not speculate on that phase of the current case."
There are regulations, however, by FAA that prohibit the shooting of any aircraft or drone, and it is classed as a misdemeanor.
FAA spokesman Ian Gregory said, "An unmanned aircraft hit by gunfire could crash, causing damage to people or property on the ground, or it could collide with other objects in the air. Shooting at an unmanned aircraft could result in a civil penalty from the FAA and/or criminal charges files by federal, state, or local law enforcement."
Watch the video below