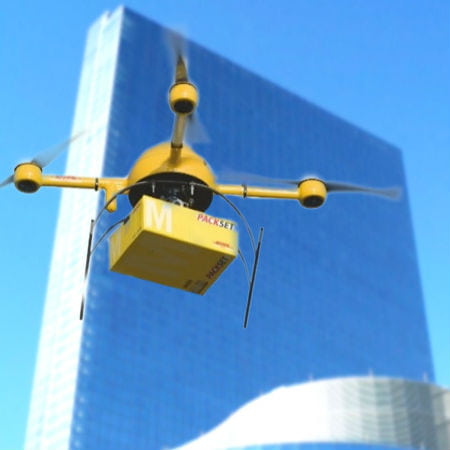 Recently, DHL, one of the pioneers in drone delivery services shared results of its Parcelcopter testing which revealed that drones are faster than cars. According to Popular Science, the unmanned aircraft which takes off and lands vertically can rotate its engine 90 degrees and fly straight from one point to another. During the testing in Bavarian Alps in Germany, the Parcelcopter drone reached a special drop off point in only 8 minutes. Compared to the half an hour it will take a car to reach the same destination, the drone delivery services is three times faster than a car. However, Parcelcopter testing is still in progress.
DHL Parcelcopter: Future of Drone Delivery Services
The DHL manager, Jurgen Gerdes, gave more insight on the use of drones for delivery at DHL. "We're the first delivery service company worldwide that is able to offer drone delivery services, Parcelcopter at DHL, for end customer delivery. With this combination of fully automated loading and unloading as well as an increased transport load and range of our Parcelcopter, we have achieved a level of technical and procedural maturity to eventually allow for field trials in urban areas as well", he said.
Scroll down for video
The Parcelcopter can travel up to 5 miles and have been tested for flights at altitudes above 1,600 feet. Once the drone soars up, it flies at 40 mph and can carry up to 4.4 pounds parcel. In a testing with actual customers, Parcelcopter made 130 deliveries for DHL. The delivery drones cannot land in your backyard; instead, they make their delivery to specially built "sky ports" with small helipad on top and a mailbox-like lockers from which the customers retrieve their packages. The idea of a neighborhood or village drop off point where packages can be secured is necessary. It will solve the problem of safeguarding and storing the packages until they are claimed by the owners as a drone cannot ascertain whether a customer is at home or not.
Other companies that are researching on drone delivery services in various countries include Amazon, Google, Flirtey and the Australian Postal Services. Google seems to concentrate more on transporting urgent supplies to locations hit by natural disaster while Amazon plans to use the delivery system to deliver products to shoppers. As a leading company in the use of drone delivery system in Europe, DHL has operated delivery drones under various weather conditions and even in mountain stations. Anyhow, these operations will be a lot easier with the help of a drone GPS tracker.
DHL's unmanned aerial vehicle (UAV) has transported medications and other urgent supplies from the mainland to the small Island of Juist which is located at the far north of Germany. This island has no bridge and is served by a daily ferry service and occasional flights. DHL yellow Parcelcopter shuttles between the mainland to Juist transporting parcels of up to 2.6 pounds. An Island representative collects the packages at Juist designated drop off spot.
Although the Parcelcopter is monitored by a mobile ground station, its 15 to 30 minutes flight is automated. DHL has been researching on this delivery system for almost a year. Since this system is still under development, it is expected to be more useful in future. However, the regulations that control use of drones may limit the use of drone delivery services in densely populated areas. Still, drone delivery services is very important in emergency situations.
Watch the video below