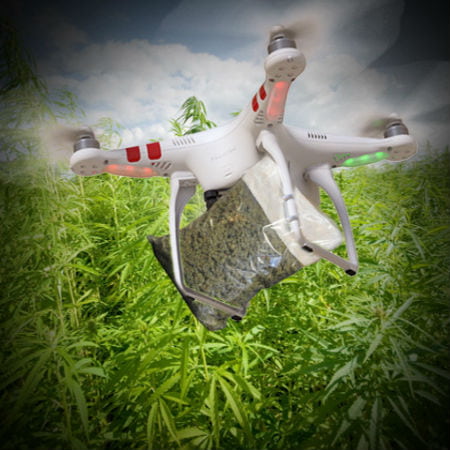 A news report revealed that a drone carrying super-strength skunk cannabis for prisoners crash-landed in a jail's exercise yard. It was found by a prison staff at HMP Bullingdon, a prison for Category B inmates, in Bicester, Oxfordshire.
Mobile phones and chargers, as well as drugs, were found on the device. It was gathered that prisoners had prearranged the prohibited goods for Christmas.
According to an insider's account, the drone was found in a part of the jail where CCTV are not covering. The source said, "It was well-planned. We've no idea how many times this method of smuggling has been used before."
Scroll down for video
Glyn Travis of the Prison Officers Association asserted, "Drones are a major security issue. They are being used more frequently. It was only luck that this one crashed before it could be emptied."
It was the first time a drone was used to smuggle illicit items into a prison. About a month ago, prison staff discovered a drone that crashed into Strangeways prison yard, containing a parcel stuffed with illicit items.

Authorities Plan to Start Registering Drone Owners
People who are willing to buy their children a drone for Christmas may have to consider registering it with the authorities in the future, the Department for Transport warned.
Drones are expected to be one of the common gifts this Christmas. However, ministers are making efforts to regulate their use amid growing fears about safety and privacy.
Consultations will begin next week to look at 'regulation, registration and licensing options and a database to increase transparency on the use of drones for the general public'.
In the words of Transport minister Robert Goodwill, "We will be looking to address these issues without placing unnecessary bureaucratic burden on their emerging industry. We intend to consult on all of these issues and other possible solutions."
The Ministry of Justice is also pushing for new law to make it illegal to use drones to drop psychoactive substances such as legal highs in prisons. Whoever used drones to get contraband into prisons may face up to two years of imprisonment.

Safety Rules on the Use of Drones During Christmas
The police have issued warnings to people who are receiving drones for Christmas to be conscious of safety regulations after unmanned drones were twice flown close to planes landing at a regional airport.
Andy Sparshott, the drone adviser for Hampshire and Thames Valley Police, said, " . . . even more worrying is that Southampton International Airport reported a drone coming to within a wing's length of two aircraft that were landing at the airport. The majority of reported incidents we get are drones flying low over houses or close to people in recreation parks."
Sparshott added, "Our message is not that drones are dangerous or that we are spoiling someone's Christmas present enjoyment but increased awareness by everyone is an essential part to preventing incidents before they happen. So if you see a drone being flown recklessly or think its location may be a risk to the public or aviation, then please report it to the police on 101, and if you do get one for Christmas, please make sure you're aware of the guidance and regulations regarding flying them,' he concluded.
Watch the video below