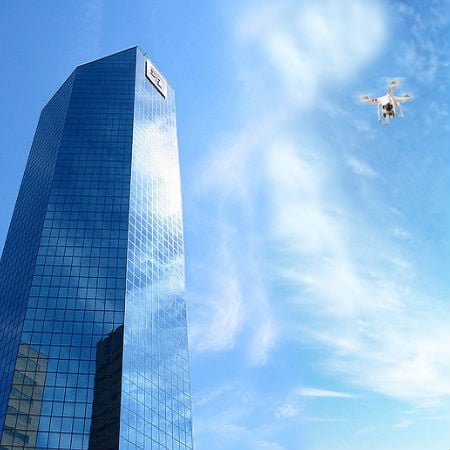 Richard Maloney, Urban County Council member, has expressed his surprise at the news in which a drone crashes on Fifth Third building in Lexington, Kentucky. The councilman, however, said it's not the incident that's bothering him—but the distance of the drone to the Blue Grass Airport, which is only 6 miles away from downtown. He says he intends to establish a committee to handle sensitization for people so they can get educated on the proper usage of drones, what is allowed, and what is not allowed.
Drone Crashes on Fifth Third, Tallest Building in the City
Regulations to Check Drone Activity
Drone incidents like this, wherein a drone crashes on Fifth Third building, have been occurring frequently and they are now a major source of concern for the parties responsible for air safety. Drone guidelines and regulations are very much needed to control the activities of these little unmanned aircraft, and many lawmakers have been pushing hard for such regulations.
Scroll down for video
Maloney, who has been agitating for education on drone use, said, "I think it's an issue. The number of drones have gone way up and being that close to the airport and being on the airport board I have concern."
The maximum height for drones that are unmanned is 400 ft and that is about the height of Downtown Lexington's Fifth Third Bank building where the drone crash-landed.
According to workers, the drone operator went inside the Fifth Third building to request for permission to go to the top of the building to get his drone, but he was not allowed to do so.
Almost immediately, the building's security officer contacted the people over the Federal Aviation Administration to alert them about what had happened.
A spokesperson for the FAA confirmed that an unmanned drone was reported to have crashed on the roof of a building at 250 West Main Street. The operator was contacted and the FAA provided him with information on how to safely operate unmanned drones and aircraft.
Stiles, president of Unmanned Services Inc., a drone flight services company, said, "The FAA has so many regulations that affect manned aircraft, the books are really thick. The aviation regulations, some of them still apply to us. We still have to know and fly according to that and then some things were exempt from- some things where there are stricter mandates put on it. It's figuring out and knowing all the things. It takes a lot of work. It takes a lot of knowledge."
Hopefully, with adequate awareness and general public sensitization on drone operation and drone safety practices, we will begin to see safer airspace. Also, there need to be adequate laws in place and effective enforcement to check the activities of the users who decide to break the regulations. In addition, investing in a drone GPS tracker for monitoring purposes would also be helpful.
Watch the video below