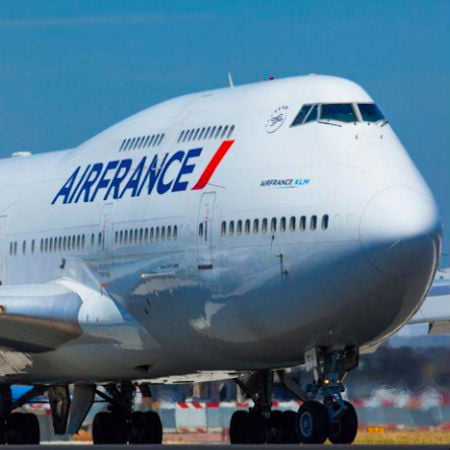 An Air France plane had a near collision with drone at the Paris Charles de Gaulle Airport when the plane was about to land. The flight, which was from Barcelona heading to Paris, was beginning its descent toward the runway at the Charles de Gaulle Airport when the incident happened.
The co-pilot had begun the usual landing procedures when he noticed a drone hovering in his field of vision. As reported, he had to carry out a manual maneuver as auto-pilot wouldn't avoid the drone.
Air France Plane Near Collision with Drone
According to the captain of the February 19 flight, the drone came within five meters of the left wing of the plane. The plane, an Airbus A320, landed without problems, but an immediate investigation was instigated by aviation authorities from France's BEA (Bureau d'Enquêtes et d'Analyse), who reported the incident of the plane's near collision with drone on their website.
Scroll down for video
They have classified the incident as "serious," describing it as a "near collision." Their main interests in knowing how and why a drone found its way to a 1,500 altitude is because it goes beyond the allowable height stipulated by law, which is only 150 meters off the ground. More so, the drone was hovering around a no-fly zone in the airport.
This occurrence is not uncommon. In fact, aircraft and drone near collisions are rising in number.
Not many models of drones sold on the open market can fly as such a high altitude. Several of these drones also have software installed in them, which prevent them from being flown in restricted areas.
A passenger plane would have withstood any mid-air collision with a small drone. The problem, however, would have risen if the object flies into one of the plane's engines. The impact could wreak a lot of havoc especially if the incident occurs over a built-up area.
Drone flights are forbidden in certain areas, and places near airports are included in the list of these prohibited spots. Nuclear power stations are also included. French authorities were left concerned in November 2017 after they detected drones flying over various French nuclear power stations.
No one was caught, and the government claimed they have no idea who was responsible for the flights. Experts have reasons to believe that it was the work of an environmental groups seeking to identify an absence of security around nuclear plants.
The alarm was raised last year again when the drones were seen flying at various landmarks across Paris even though it was illegal. On a side note, if they wish to easily monitor and track down illegal drones, they should invest in a GPS tracking device.
None of the operators of the night-time flights were caught by the police and it is not clear whether they were the work of pranksters, tourists, or something more malicious.
Flying a drone without permission or in a restricted area in France can result in a fine of $85,533 and up to a year in prison.
Watch the video below