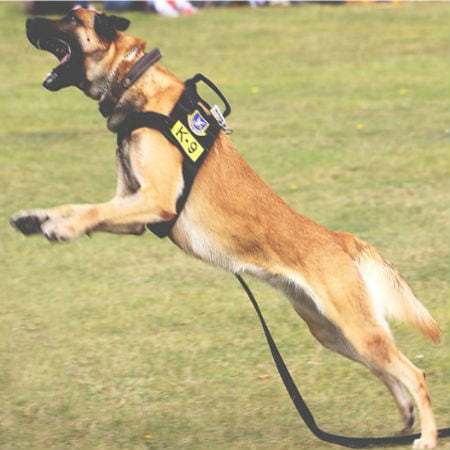 GPS technology is a known excellent tracking tool. For years now, people have been using it for navigational and mapping purposes. But the recent development in GPS monitoring devices now allows users to do live data gathering and analysis. Such tracking characteristics are now integrated into the latest GPS devices such as the GPS dog trackers.
Scroll down for video
Uses of GPS Dog Trackers in K9 Monitoring
The Arizona Department of Public Safety has seen the benefits the new tracking units can offer, as such it plans to use GPS dog trackers to monitor its three K9 dogs namely GoGo, Nico, and Clif. Police dogs are hardworking and a huge help in patrolling premises, tracking people, etc. With the added data collecting capability of the new device, the department plans to utilize the GPS dog trackers to keep track of their K9's whereabouts, well-being, and even their behavior.
Not only that, the GPS tracker for dogs can be used by the Arizona police in K9 training by analyzing the dog's searching patterns.
Cop dogs are energetic, very eager to work, and their concentration level is high. In order to keep them in their top form, the Arizona Department of Public Safety regularly tracked the dog's core temperature through a tracking implant. GPS animal monitoring is done through an app that runs on the handler's smartphone. Whether the dogs have strayed too far or their temperature has elevated to an alarming extent, the handler can check anytime.
In an interview with USA Today, Officer Brian Greene said, "With the high drive of the dog, he doesn't want to stop. We need to pay attention so we don't run him into the ground."
The GPS tracker for dogs can help the ADPS maintain the dogs' health. For example, while the dogs are working outdoors and upon checking from the GPS device that their temperature is past the normal level, they can take the dogs into the department's air-conditioned vehicle.
Temperature tracking in dogs is important. About 18 police dogs die annually because of heat stroke. By using GPS technology, the ADPS is hoping to prevent this from occurring.
Watch the videos below
Let us help you. We'd be delighted to answer any tracking questions you have or discuss the options in more detail.
Or read about our GPS pet locator to learn more.