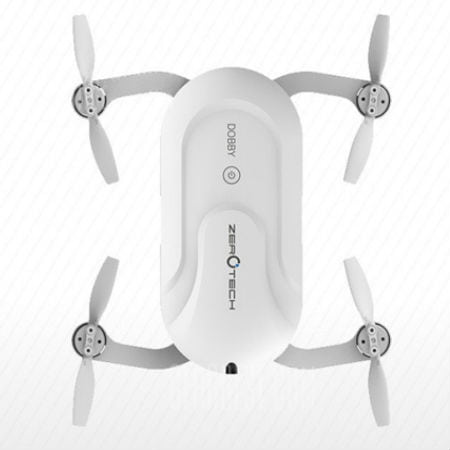 Recently, ZeroTech, a Chinese UAV maker introduced their own selfie drone called Dobby. In the past, selfie drones are difficult to bring during travels because of its fragile and sensitive parts. Though selfie drone called Hover Camera was able to solve this problem with its foldable design. Dobby takes selfie drone to a higher level with a unique design that makes it portable. Dobby selfie drone is lightweight at 199 grams, bendable that it can be put away in a pocket or bag just like a smartphone.
Dobby Selfie Drone Features
Scroll down for videos
Dobby selfie drone also comes with a 970mAh LiPo battery plus a spare that can provide up to a total of 18 minutes of flight time. Just like the other gadgets out there, this pocket selfie drone can be controlled by smartphone as far as 100 meters outdoor or indoor. It also has a Qualcomm Snapdragon 801 SoC with a 2.3GHz quad-core CPU, 2GB of RAM, 16 GB of internal storage, and an Adreno 330 GPU.
Another amazing feature of Dobby selfie drone is its 13 mega-pixel f/2.2 camera with 75 degrees field of vision that takes excellent-quality photos. Using your smartphone, you can even share your photos taken by Dobby live via your favorite social media accounts.
Aside from the features mentioned above, Dobby is also capable of taking voice commands, detecting facial expression, following the user around, allowing them to have gesture-based controls, performing flips, and is also capable of 3-tap power-ups.
As if it's not enough, it's even equipped with the combination of GPS tracker technology, which is the same technology used by Trackimo, and GLONASS to provide and log the most accurate and trajectory flights based on the given waypoint by the user.
With Dobby selfie drone, you will never have to ask a stranger again to take your photo when traveling alone. You can obtain this pocket camera for $300 in China. If you're from elsewhere, it resells for $350.
Watch the videos below