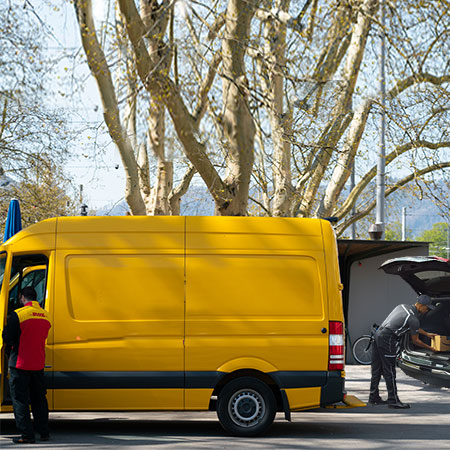 Are you tired of going to the post office warehouse to pick up a package that was delivered to your house while you are out? Good news, Amazon is about to launch a service that will address this problem—they will now deliver items to your car trunk straight from the warehouse.
This service is currently on a trial run in Munich in partnership with Audi since May. Audi car owners will have the option to have their DHL parcel be sent directly to the trunk of their cars. If the test run goes well, the service will be available to all customers worldwide.
Scroll down for video
Amazon's Newest Program: Deliver Items to Your Car Trunk
This direct-to-trunk delivery service will allow the DHL delivery agents to use GPS vehicle locators to temporarily track your car, and they will also be granted one-time access to your trunk. Once the agent closes the trunk, it will lock again, and they won't be able to open it. This is only applicable to owners of the latest Audi models, which are keyless. But if older Audi model drivers want a keyless system for their car, they can bring it to the brand's service center and have it retrofitted.
Of course, before this can happen, the Amazon Prime shoppers have to agree to have their vehicles tracked using real-time GPS vehicle trackers. They will have to provide the agent the general location of their vehicle as well as their favored delivery time. The DHL driver will then use a smartphone to locate the exact position of your Audi. Michael Pasch, director of EU Amazon Prime, says that their aim is to give their shoppers a convenient delivery location.
However, even if you're in Munich and owns a brand-new Audi, you might not be able to avail this service because it is still in experimental trial and only a few customers are selected for this limited run.
Audi assures their customers that their system is highly secure, it will not affect the insurance policy because the delivery agent has no access to the main compartment of the vehicle. According to  Ulrich Hackenberg, Audi board member for technical development, their top priority is the security of the car and customer data.
In 2014, Volvo had the same project at Mobile World Congress, minus an online retailer partner. Car manufacturers are integrating technology into their cars to sell their products. A lot of car advertisements mention technology like Wi-Fi, GPS, etc. to convince would-be buyers to purchase their product.
What's important here is if Amazon can launch this deliver items to your car trunk program worldwide. But if you have some apprehension about someone delving through your trunk, Amazon has put up lockers across the country where you can have your package delivered safely. This way, you won't have to go to their warehouse to pick up your delivery, although you still have to go to the locker's location. Some people prefer to have their parcels delivered to their office, but as online shopping is flourishing, some companies prohibit their employees from using their office address as a consignment address to avoid front desks being besieged with deliveries every day.
Another feasible move is to use this tracking technology to deliver a package to you in person through your phone's GPS location. Other personal 3G GPS tracking devices such as Trackimo can also be used—that is, if you're comfortable letting Amazon know where you are at any time. But maybe many people are willing to sacrifice this much in exchange for convenience.
Amazon has not yet given any information regarding a possible global roll out of their plan to deliver items to your car trunk, only that the Munich pilot program is their "first step" before launching a worldwide project.
Watch the video below