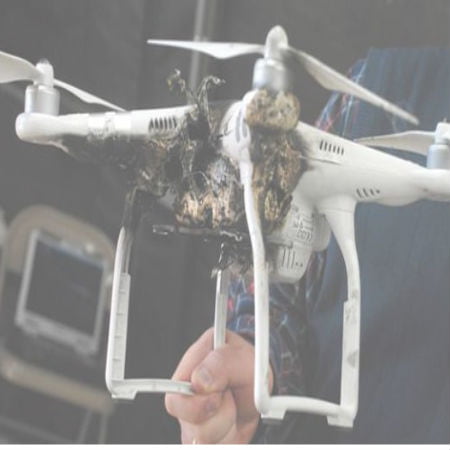 There are increasing calls for more regulation on drones. There have been a lot of cases of invaded privacy, but that is not as serious as the potential for serious hazards and accidents that could occur as a result of drones. Drone usage keeps on soaring and possibilities for serious accidents are on the increase. If care is not taken, much avoidable damage could be done.
Scroll down for video
Drone Pilots to be Held Liable for the Damage by Drones in Florida
In Florida currently, anyone who suffers damage from a drone has no protection or right to any claim. A Republican senator from Miami wants to change all that.
Senator Miguel Diaz de la Portilla is proposing the legislation that would cover for victims of accidents from drones. Drones could lose control easily and crash into crowds or buildings and even power lines.
"They're very hard to control and they can cause massive damage if they fall," Diaz de la Portilla said of the devices.
Drones can have a variety of functions and sizes, ranging from personal cameras that can be lofted into the air to armed military aircraft.
The Bill numbered 642 is going to allow people to recover money lost from damages due to drones. The owner of the drone would be liable for all losses incurred by the victims. But if the accident was due to a design error on the part of the drone manufacturer, the manufacturer of the drone would be sued.
Senator Diaz de la Portilla said that no feedback has been received about the proposed legislation, but discussions are expected to begin soon. That is when the bill would be first vetted in front of the Senate Judiciary Committee. Senator Diaz de la Portilla is the chairman of the Senate Judiciary Committee.
Senator Diaz de la Portilla said that there was no particular occasion that provided motivation for the bill, but he made mention of the fact that numerous reports of drone accidents have been received nationwide. These drones caused damages to cars, buildings, and people.
In June, a woman reported that she was sitting outside a bar in downtown Tampa when a drone started flying around her. The drone even followed her to her car before hitting the roof of her car.
The Federal Aviation Administration (FAA) has proposed compulsory registration of drones due to the numerous cases of misuse and accidents caused by drones.
There's also a proposed rule that would require operators to report instances of damage or injury, but there's no planned regulation on liability, Diaz de la Portilla said.
"When you take a look at the whole context of how little it takes to get a drone and operate it and the massive damage they could cause if they fall or crash into someone or something, you need to have a law that gives a recourse to people that suffer damage to themselves or their property," he added.
The legislation would follow in the footsteps of other laws by the state of Florida to protect the privacy of residents and regulate the usage of drones.
In 2013, the Freedom from Unwarranted Surveillance Act was passed. This prevented law enforcement agencies from making use of drones for surveillance purposes unless there is a warrant or emergencies that could cause loss of life or damage to properties. The law was aggrandized and surveillance drones were banned anywhere there is a reasonable expectation of privacy.
The House companion (House Bill 459) to Diaz de la Portilla's bill was filed by Rep. Heather Fitzenhagen, R-Fort Myers. The first reading of the bill is yet to be held.
Watch the video below
Let us help you. We'd be delighted to answer any tracking questions you have or discuss the options in more details.