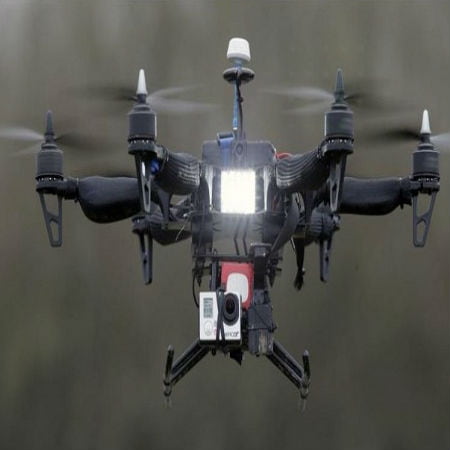 Crowd surveillance using drones is what the Paris Police are searching for. Authorities have issued tenders and requested for high-grade UAVs from reputable companies ahead of Euro 2016 soccer tournament.
Police in Paris are trying to purchase drones that will help in crowd surveillance, according to a tender released by the prefecture last month. The document reveals that police are looking to acquiring hexacopter drones to carry out "low altitude aerial surveillance" on outdoor crowds, most likely in a bid to tighten security ahead of the UEFA Euro 2016 soccer championship and Tour de France, which begins in June and July, respectively.
Crowd Surveillance Using Drones in Paris
Scroll down for video
Since the terrorist attack in France last year, 13th of November 2015, the country has been in a state of emergency as the government is preparing to extend it through the Euro 2016 tournament that will be held in June this year. The state of emergency empowers the French security with great power to operate on house raids and searches without a warrant. This regulation was extended for an additional three months in February causing discomfort on civil liberty groups despite their protest who claim the laws have been used to unfairly target French Muslims.

"WE MUST AVOID MASS SURVEILLANCE SYSTEMS."
The tender published last month did not show the exact number of drones requested by the police, however, the French media sources have claimed and reported that the police are seeking to acquire just two. According to the news briefing, the unpiloted aerial vehicles (UAVs) must have a minimum speed of about 22 miles per hour, and be compulsory equipped with high-definition cameras with infrared thermal imaging capabilities license plates from a distance of at least 50 meters (164 feet) and an altitude of 30 meters (98 feet) must also be able to recognized by the six-propeller drones. It should fly at an altitude of up to 100 meters (328 feet). It is reported by French newspaper Le Figaro that an estimated €429,600 ($486,000) to be spent by the French on the UAVs. On a side note, it would also be helpful to use a GPS drone tracker for monitoring purposes.
The French police are yet to comment on how they plan to make use of the drones for crowd surveillance although it has raised concerns of the tender presented among rights groups. Maryse Artiguelong of the French Human Rights League tells Le Parisien "Drones can certainly be useful in very specific circumstances". He added, "But we must avoid mass surveillance systems." A law that went into effect this year requires surveillance drone operators to inform people that they are being watched.
Whatever the case of the usage of the drones by police or civilians, a careful approach should be taken to avoid it going into the wrong hands. With the hexacopter, it could go a long way enhancing the security in crowded events, however, it could be dangerous if it falls to the wrong people as well. "In any case, what seems essential to us is that monitored people are informed," Artiguelong said.
Watch the video below