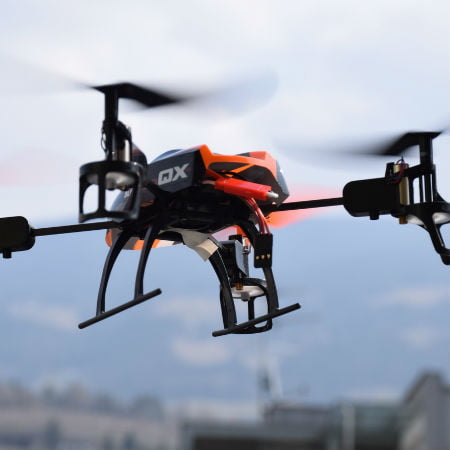 Drone user Robert Ross had been enjoying his drone for less than 30 days when he lost control of it. His miniature drone which was a Christmas gift from his wife, caught an air current on the North Side and took off.
"I was flying my drone at Jonquil Playlot Park," he recounted in a lost-and-found ad on Craigslist.  "It got caught up in the jet stream and blew away. It flew in the air west of the park, toward the Starbucks at Wrightwood and Racine."
Scroll down for video
Alarming Increase of Drone Flyaways
This was the second ad on Craigslist in recent days to feature lost drones in Chicago. A man was warned by the FAA after he flew a drone over the Lollapalooza music festival and he uploaded 2 videos taken by the drone on YouTube. FAA officials explained that flying a drone over a crowd is very dangerous and it was careless and reckless of the man.
"We call them flyaways,'' said Ryan Twose, organizer of the Chicago Area Drone User Group.
Twose said it's hard to say how many drones have strayed in the Chicago area or what damage they might have caused.  He assumes the number of errant drones has been climbing along with sales as prices have fallen and features have improved.
"If you increase the number of users, of course there might be a higher number of flyaways,'' Twose said, but added, "No person that I know of has ever been hurt by one falling on them."
A falling drone can pack quite a punch, according to Bill Stockwell, who teaches classes at McHenry County Community College on the proper use of drones and other "unmanned aerial systems."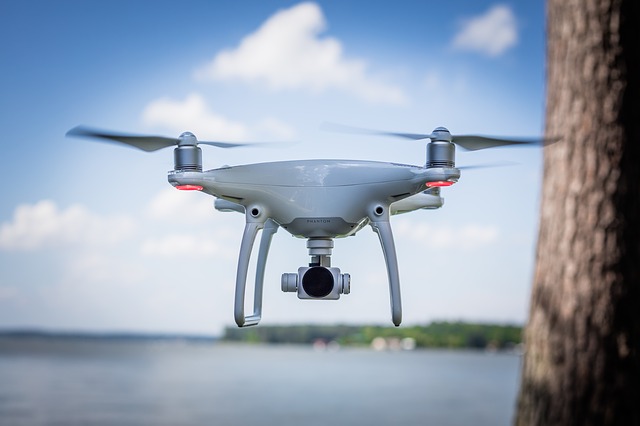 Most private drones weigh about 2.2 pounds, Stockwell said. "With no wind resistance, that's roughly 939 pounds of force if it fell straight down from 400 feet.
"There's just too many people that just have no idea what they're doing flying with their cool cameras,'' he said.  "I fly a competitive 7-foot helicopter that goes about 140 mph. If it was flying at 400 feet, which is legal, it would hit the ground with 2,200 pounds of force. Can you imagine what that would feel like?"
In May 2014, a Phantom 2 made by DJI crashed into the 30th floor of St Louis's Metropolitan Square building the tallest building in Chicago. Many top of the line drones come with six propellers usually made with carbon fiber alongside stabilizers and cameras that can be used to record and stream HD video. Prices start at $30 and could go all the way up to above $2000. Almost all drones can take pictures and videos.
The popularity of drones has skyrocketed and in lieu of this, the FAA has created a public awareness campaign advocating amateur drone operators to pay close attention to safety and avoid flying too close to planes, objects and buildings. Drone owners have also been advised not to fly drones while being drunk.
Twose advises "drone hobbyists" to stay close to their drones.
"Remain within the line of sight — under 400 feet — and check in with your local city or town to make sure you can operate them,'' said Twose, noting that some towns on the North Shore prohibit drone use.  Generally, private drones fall under the same guidelines as model aircraft.
Twose said users can buy a "return to home feature" that would program the drone to automatically go back to where it had taken off. "There are also Bluetooth devices that can help locate a drone within 100 yards away," Twose said.
"Flyaways can happen," he said. "I recommend you put your name, address and phone number on your drones and if anyone finds it, they can get it back to you."
Robert Ross doesn't thinks he can find his drone which is a black Hubsan X4 RC model. He said he was enjoying his drone at the Jonquil Playlot Park at 1001 W. Wrightwood Ave. when the drone got away from him.
"It was a windy day," Ross said. "I couldn't corral it back, and it's getting higher and higher, and then I can barely see it."
Ross said he began sprinting as it flew west.  "I was like, 'Oh my God, it's flying right by the house.'"
He ran two or three blocks, then slowed to a walk.  He spent about an hour looking for it but then gave up and decided to place an ad in Craigslist. No one had called as of Thursday morning.
He even placed a text file on the drone's chip: "If Found, Please Return to Robert Ross."
Ross said he was never into remote-control toys as a kid, but then he saw a "60 Minutes" segment about drones.  "It was Morley Safer, but they had the top-of-the-line (drone) and I watched it and I thought, 'Wow, this is really cool.'"
After "thinking about it forever,'' he and his wife, Lauren, spotted someone flying a drone in Maggie Daley Park in early December.
"My wife got it for me for Christmas,'' Ross said. "It was only $60 on Amazon.'' The drone did not have a built-in GPS or live camera.
Ross said he got so hooked, he's already gotten another one.  "It's just really fun," he said.
Ross said he likes to use the drone to film himself and his wife in the park.  He also does practice runs in his condo "to see if I can get it down hallways."
"I never spy on anybody," he said.  "I've taken some funny videos.  I'm looking forward to taking it outside Wrigley Field."
Watch the video below