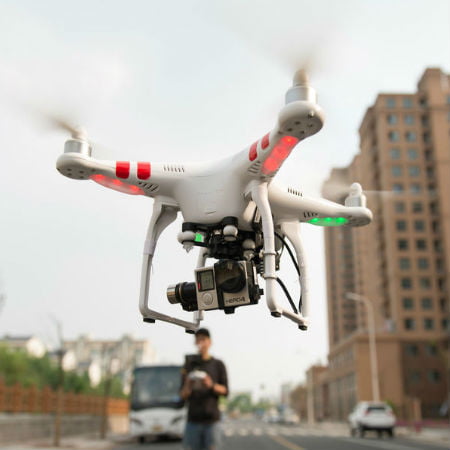 With the increasing decrease in prices of drones people are now giving more wings to fly, and this is giving regulators worries about the capacity of the airspace to hold upsurge.
Recently, two senators complain that drones in their hundreds have been violating Federal Aviation Administration (FAA) rules. Drones are expected to stay five miles away from airports, away from other aircrafts, and within 400 feet of the ground. Despite the rules, the FAA has recorded 891 violations, all reported by passenger planes between April 2014 and August 2015.
Scroll down for video
Can Congress Control Drones in Finding a Way to Regulate Drone Flights?
The incessant straying of drones out of control is given some leaders a sleepless night. Sen. Dianne Feinstein (D) of California and Sen. Charles Schumer (D) of New York expressed frustration with the drone disobedience.
"It's clear that reckless consumer drone use is increasing," said Senator Feinstein as reported by USA Today.
With 182 drone sightings, California, the home state of Sen. Feinstein happened to be the worst violator. Being aware of the challenges, the state passed a law to stop photo-drones from flying over private homes earlier this month, while a bill to criminalize drones that interfere with wildfire-fighting was vetoed by California Gov. Jerry Brown.
In an effort to curb the problem, the Senate Democrats, at the national level, is proposing a bill tagged the Consumer Drone Safety Act, which would require manufacturers to sell safety information with drones and place technological safeguards into the drones themselves.
"Our bill would advance technologies focused on detecting, identifying and cracking down on dangerous drone use," Senator Schumer said, according to The Hill. "Drone technology has the potential to be truly positive and transformative, and many users operate them safely, but when it comes to protecting our skies and the traveling public, we can leave no stone unturned."
In a counter response, the Academy of Model Aeronautics, an organization that boasts over 180,000 hobbyist drone operators as members, said the FAA report misrepresented the findings, and many of the sightings could have been birds or balloons.
"It's not just uninformed consumers causing problems; the data includes several reports of authorized or unauthorized public entities and commercial operators flying," the academy pointed out in a news release. "Only a fraction of the records were legitimately reported 'close calls' and 'near misses.' Some didn't involve drones at all."
The academy, in an effort to strike the delicate balance between safety and innovation, has partnered with the Association for Unmanned Vehicles Systems International (AUVSI), which represents commercial drone operators, to create a website with safety information and guidance on how to use drones without violating rules.
"They're a lot of fun, and they're fairly easy to use, but there are some rules for sharing the air space because there is a limited amount of it available," Tom McMann, a spokesman from AUVSI, told The Christian Science Monitor. "A lot of times, people aren't aware of rules."
Mr. McMann stressed that they are looking forward to a release of comprehensive drone guidelines from the FAA, which is long overdue already. As it is now, commercial drone use is technically illegal, so commercial drone operators must apply for an exemption in order to fly legally. The FAA is giving out these exemptions at a rate of 50 per week, McMann explained to The Christian Science Monitor.
Watch the video below
Let us help you. We'd be delighted to answer any tracking questions you have or discuss the options in more details.