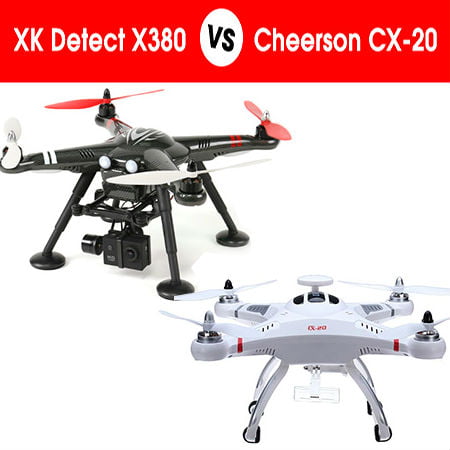 Are you debating as to whether to get a Cheerson CX-20 or a XK Detect X380? Then this article has you covered. If you start comparing Cheerson vs XK Detect, you will know that each drone has its own set of advantages and disadvantages, but one thing is for sure—they are both suitable for intermediate pilots.
In comparing Cheerson and XK Detect, the first thing you need to take note of is that both drones are not immune to crash-landing or those dreaded flyaway situations. With that piece of information, drone owners without any prior experience may not find these models the easiest to work with.
Scroll down for videos
Cheerson CX-20
Comparing Cheerson and XK Detect, the former is undeniably the more popular brand among the two drone models. One of its most popular manufactured drones happens to be the Cheerson CX-10, which is known to be the world's smallest drone, too small it can fit in the palm of your hand.
The company eventually stepped up their game by introducing more models to choose from. Perhaps the most attractive factor about Cheerson's commercial drones is that they come at a relatively low price and have roughly the same feature as the DJI Phantom.
As for the CX-20, it is yet another affordable option courtesy of Cheerson. Aside from being pitched as a cheap option to get into the world of UAV, it also has the right features that can handle the user's GoPro and action camera.
Other notable features include the following:
15-minute flight time
2700 mAh 20C 3C battery (the battery charges for about 2 hours)
200-meter altitude and control distance
22 mph max flight speed
Return to Home function
GoPro camera compatible
Intelligent orientation control—this means you don't have to worry about losing control of your CX-20 with the IOC. It is tasked to propel the drone toward the direction you wish to go to. This makes it easy to recover from a spin and set the CX-20 straight again.
Altitude hold/fixed position hover/auto landing fail-safe
LED light system
The CX-20 comes in two versions: the Big Fly Shark version and the open source version. The primary difference between the two is that the open source version supports the mission planner software, while the Big Shark version does not.
This brings us to the price point. The CX-20's more popular open source version is priced at $207. The Big Fly Shark usually retails at $25 more.
XK Detect X380
XK is not a popular drone manufacturing company, but it can be noted as the sister company of WLtoys, the manufacturer behind the WLtoys V303. That said, the X380 is clearly a more polished version of the V303. Comparing Cheerson and XK Detect appearance-wise, the two drones share a striking resemblance with each other. Both exteriors are fashioned with a new faux carbon fiber finishing and a larger battery bay. The X380 even has the same x-shaped body and UFO-like design.
Comparing Cheerson and XK Detect, the main difference between the two is that the X380 has more impressive features, making it even more worthy to be pitted against the CX-20. Basically, there isn't much of a difference between the XK Detect X380 and the CX-20. They share features like GPS support, return-to-home commands, and GoPro compatibility.
The X380 has a bigger battery in the form of a 11.1V 5400 mAh battery, which provides a flight time of almost 30 minutes. That feature alone is enough to give it an edge over the CX-20.
Comparing Cheerson vs XK Detect: Price Tag
The costs for the CX-20 and X380 are the same. Both drones retail at a price point of $207, and that would be excellent for people who are new to the UAV world. Before purchasing a coveted DJI Phantom, you might want to buy either one of these.
Conclusion
With similar features, comparing Cheerson and XK Detect boils down to personal decision. If you want something that has been popular among the public, then go for the CX-2o. This does not mean that you should rule out the X380, though, as this model is not as widely distributed because it came out later. The features of X380 are not something that can be easily overlooked as well. With its long-lasting battery life, users can fly their drones for longer periods.
If you happen to already be a drone owner, but you still want to enhance your drone's features, then a GPS tracking device will be a good way to start. Trackimo is a 3G GPS tracking device that allows drone owners to keep track of their precious drone, and it increases recovery time in case a flyaway happens.
Watch the video below