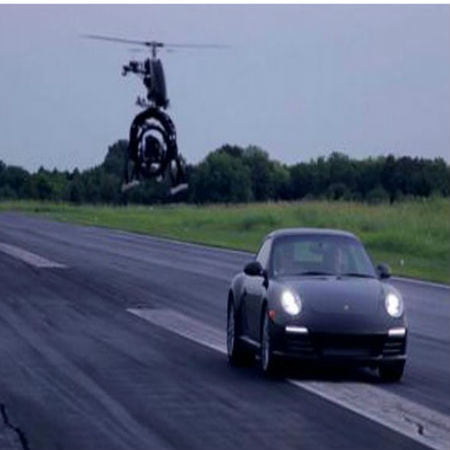 All things being equal, Dronix, a Mexican tech startup, may soon introduce a lookalike of Robocop in Mexico City. Though considerably smaller, non-lethal, and winged, to hunt stolen cars using drones, a fleet of it, will be of very good use.
Dronix is teaming up with anti-auto theft firm LoJack to create a fleet of drones that can patrol the skies above Mexico City in search of stolen vehicles.
Hunt Stolen Cars Using Drones And Fleet of it Will Soon Take Off
Despite the fact that overall car theft has been on the decline in Mexico, retrieving stolen vehicles remains a major challenge. According to Mexican daily newspaper El Financiero, less than half of all the reported stolen vehicles last year were found. The report has it that the Nissan Tsuru was the most stolen vehicle of 2015 in Mexico.
While there are different types of vehicle tracking, the management of the two companies, Dronix and LoJack, believes that the new technologies can help both the police and insurance companies in doing their job. This drove them to start using drones to hunt stolen cars.
Scroll down for video

"Drones are a big technological advancement," Dronix CEO Federico Gonzalez and LoJack–Mexico director Leonardo Contreras told Fusion in a joint statement. "Through our alliance with LoJack, we are seeking to improve the process of retrieving vehicles while improving security for personnel," said Gonzalez.
Gonzalez reveals the two companies are already testing a pilot program but wouldn't comment on the details. He shared, "We are expecting that in a very short period of time we will be implementing new processes in the retrieval of vehicles with the help of drones."
Gonzalez also said that drone model S1000 will be equipped with cameras and will have radio antennas that can help triangulate stolen vehicles, then the drone will be able to locate the car following signals emitted by the LoJack gear.
After that, an alert will be sent to personnel from LoJack as to the whereabouts of the vehicle, and this will be followed by a physical investigation of the exact location of the stolen car. They work with law enforcement to retrieve vehicles.
The collaboration also leads to engagement of government in talks to draft legislation regulating the use of drones in Mexico City.
"Dronix is playing an important role in the dialogue that exists with Mexico's Directorate General of Civil Aeronautics," Gonzalez said. "We are waiting for a regulatory frame to be ready so we can talk more openly about these developments."
Mexico's civil aviation laws are from a pre-drone era, which have not yet been updated. That lack of aerospace regulations coupled with a growing drone manufacturing industry has sparked drone innovation in Mexico. But as more and more companies and drone enthusiasts take to the skies, legal problems could arise. Nevertheless, Gonzalez doesn't think his company is about to unleash a Terminator scenario.
"We think there's no conflict between piloting a drone and the execution of authority functions," he said. Gonzalez claims using drones to hunt stolen cars does not mean replacing cops; if anything, law enforcement will still be in charge of locating stolen vehicles and the drones will just serve as "very valuable tools."
Drones, especially with the help of GPS tracking device, do seem to represent an opportunity to reduce risk in some circumstances such as having a cop suddenly engage in a gunfight over a stolen vehicle. The fear, however, is that as use increases, a failure in the technology could bring unwanted consequences, from privacy concerns to simply having a drone fall from the sky and injures people below.
Watch the video below