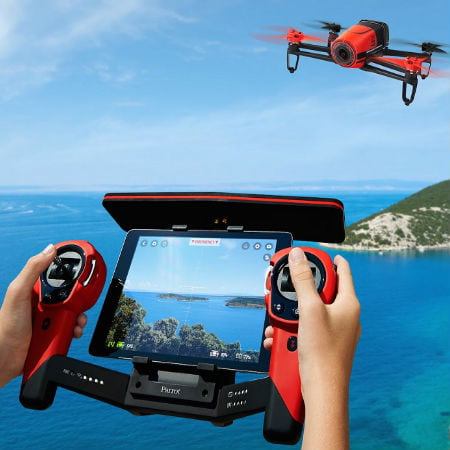 Drones have emerged as one of the most popular Christmas gifts in 2015, but the flying robots are starting to prove to be one of the most difficult gadgets to handle.
Although it's not a new thing for shiny new gifts to be ruined in the days after Christmas, drones are setting a new record—the machines are being destroyed in a matter of minutes after they've been unwrapped.
Several videos uploaded on YouTube since Christmas have captured moments when drones were lost, stuck, or broken by both children and adults—people who aren't just ready or fit to take their machines to the sky.
Scroll down for video
Diverse Range of Problems
Many people most likely had no problem racing to use their drone on Christmas Day, but some of them had trouble keeping it off the ground. Others, who somehow managed to get it off the ground for significant times, did not have the experience or skill to maneuver it around the pesky trees that got in their flight path.
Then we have the amateur flyers that didn't even bother to test if they could bring their drone back before sending it up and high into the heavens.
"Damn thing wouldn't fly backwards, lost signal, disappeared in the clouds and now lost," L. Jeff Williams, who lost his drone on its first and final flight, complained.
Even those who managed to keep their drone nice and steady found it hard trying to avoid disaster.
Jason Bright, in a YouTube video, shared the unforgettable moment when his $1,000 drone lost a propeller within one minute of taking off the ground. It then tumbled down in the next few seconds and eventually crashed into water.
Several drone users have complained on social media. Some took to Twitter to express their disappointment with the crashing of their new beloved toy.
"Neighbor got a new drone. Time from out of the box to dramatic crash: 5 minutes," @wareFLO from Scranton tweeted.
"I flew a drone for 10 minutes and crashed it into MY ROOF TWO TIMES," @infinityandlou complained.
Complaints
Anticipating these complaints, consumer groups issued warnings about the drones. Days before Christmas, Australia's Civil Aviation Safety Authority released a video warning adults planning on unwrapping a new quad-copter this Christmas about safety issues in using the toy.
"They're fun to fly, but you must be responsible," the CASA video warns.
With fires raging across Victoria and more expected to come in summer, the state's Country Fire Authority warned amateur drone pilots against flying in danger zones.
"As much fun as you might be having playing with your shiny new drone these holidays, it is really important that they do not interfere with the emergency response vehicles," a CFA statement declared.
There are punishments for offenders too. Those who breach the rules face fines of up to $9,000, but the immediate impact could cause fire-fighting aircraft grounded if a drone is spotted around the place.
Watch the video below