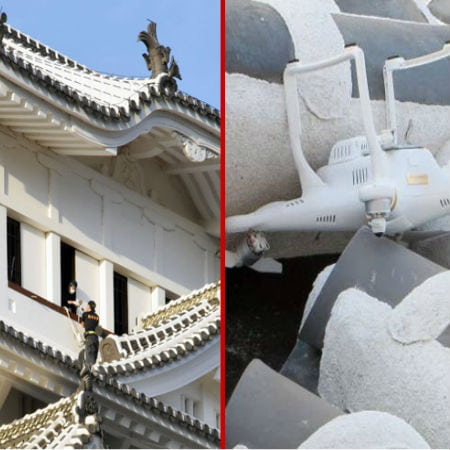 A businessman KOBE has admitted to flying a drone that was seen stuck in the roof tiles of Himeji Castle, which is a UNESCO World Heritage site in Hyogo Prefecture, as confirmed by the police authorities.
Himeji Castle: Businessman Responsible For Drone Crash
The 49-year-old businessman, who hails from Kitakyushu, claimed that he was using the drone to take pictures of the newly renovated feudal fortress to be posted in a magazine. Being a very kind, and a responsible citizen, he contacted the police and told them that he was to be blamed for the accident.
Scroll down for video
The drone was spotted by a guard who was on patrol that day as it flew at an altitude of about 46 meters. The rotors of the drone were apparently broken during the crash. Although there were no scratches nor harm done to the roof or walls of the building, the windows were seen to have some cracks.
The Himeji Castle
The Himeji Castle is known to be a designated national treasure and was renovated in March after more than 5 years of restoration work that involved the replacement of the roof tiles and repainting the outside walls.
So many drones have been seen flying near the castle since 2013 when the drone technology became popular and available to the masses, but no crash incident has been reported in this landmark except this one.
"Drones are useful, but we'd like to request people to fly them in a sound manner and with sound morale," said Hiroki Ishikawa, chief of the castle's management office. "This incident is quite regrettable."
It should be recalled that there is a law that bans drones from flying near certain places like the prime minister's office, airports, nuclear power plants, and other important public facilities.
Watch the video below