The massive volume of Black Friday shoppers can be overwhelming for everyone. Due to the number of discounted items available in stores, it is not uncommon for groups to get separated from each other. Because of this, many developed survival and safety practices to get ahead of the crowds. While some of these tips are more obvious than others, here are tips for safe Black Friday shopping to save you and your friends from the shopping frenzy on the big weekend sales.
Tips for Safe Black Friday Shopping
1. Plan properly. Agree on a designated meet-up time and place. Remember that not all stores provide great phone reception, so be specific and follow the set rules to avoid stress. Being specific would also help, because in large stores, the "electronics section" could be a maze in itself and you could lose your friends in the crowd. "Outfits of the day" are actually pretty useful on Black Friday, so take those #OOTD photos by the bunch! Take note of what each person is wearing so that you will have a better chance of spotting them in the crowd.
2. Remember to put your purchases in the trunk of your car. This is especially for those who are driving while shopping in multiple stores. Bags full of video games, digital cameras, and other items make quite an enticing target for thieves, so make sure to make as much space as possible before you start your shopping venture.
3. Use a small bag to carry your wallet and phone in. You also have to make sure to guard it closely to avoid losing it or have it stolen. If you think you need to carry drinks and snacks, choose to bring a backpack to make it easier to navigate the stores. When possible, however, only bring with you the necessities: credit cards and photocopies so that you will have a copy of your account number and customer service phone number in case your bag gets stolen.
Scroll down for video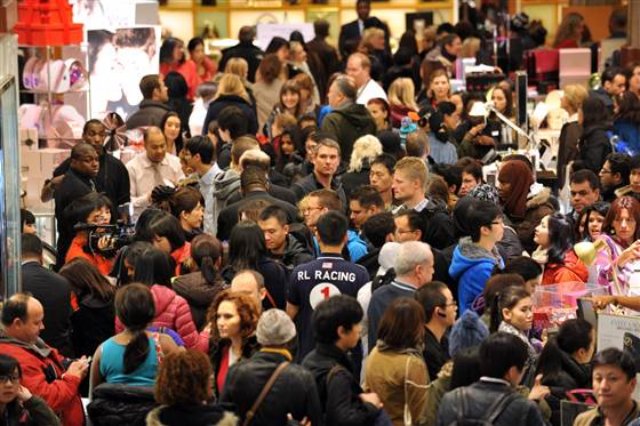 4. Your phones should be powered on, fully charged, and accessible. Keep it in your pocket where you can feel it vibrate so that you would know that your friends are contacting you, even when in the middle of the chaos. Also one of the most important tips for safe Black Friday shopping is to make sure that everyone has each other's phone numbers to make meet-ups easier. If you have GPS tracking devices, this is also the perfect time to make use of them so that you can navigate your way to each other when other channels of communication fail.
5. Take note of where you parked your car. If possible, you may even want to take a photo of what you see as you walk away from it to have a better grasp of your parking when the day is done. Remember to fill up your car as well because it may take some time to find parking, or you may get stuck in traffic, considering the number of stores with massive discounts and the number of people swarming to them.
Stay safe and stay clear of trouble. Enjoy your Black Friday shopping spree!
Watch the video below