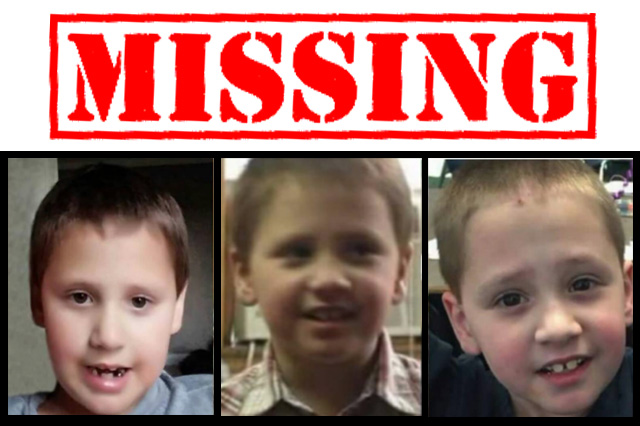 Eight-year-old Damion Alexander Davidson has been reported missing since June 12, 2016, after leaving his home on the 1400 block of north 7th Street in Duncan. He was last seen on surveillance video around 7:30 a.m at a Dollar General Store in 10th Street and Beech but left shortly after realizing it was closed.
The boy, who is reported to have autism and is nonverbal, is believed to have escaped his home after his mother found stacked items, which he could have used to escape the premises. Damion is said to be wearing a pair of Captain America pajamas.
Scroll down for video
As the search reaches its third day, police have discovered Damion's pants hanging on three branches over Claridy Creek. Damion is 4 feet tall and weighs about 50 pounds. He has brown hair and green eyes.
The concern for Damion continues to rise as the young boy has always had this fascination with creeks and streams, prompting authorities to focus their search parties there. The team has expanded their search toward other stores, his school—Mark Twain Elementary—and various waterways around town.
"He moves around a lot, so I think that's what we're hoping he's doing. You know, he's moving around," Kathy Davidson, Damion's aunt, said in an interview last Monday. "With all the rain he might be moving from spot to spot and we're just missing him."
Volunteers and K9 units joined in with the search and offered to have their drones used to make the search a little easier. The search may expand to Stephens County and Waurika Lake, if Damion will not be found soon. A command center has also been set up in the wake of the boy's disappearance.
According to Lieutenant John Byers, the team is hopeful they will find Damion alive.
"We're still searching for this young man. We are hoping to find, find him alive . . . find him in the best health that he can be. If we do find him, we're going to take him directly to the Duncan emergency room [and] get all the medical help we can get and get his family to him as quick as we can," he said.
Authorities urge citizens living in the Duncan area to review surveillance footage to see if the boy was captured on camera specifically on Sunday, between 7:00 a.m. and 12:00 in the afternoon. People are encouraged to check small areas where an 8-year-old boy may likely be hiding and make sure to approach Damion from behind while alerting authorities.
If you have any information about Damion, please call the Duncan Police Department immediately at 580-255-2112.
Watch the video below