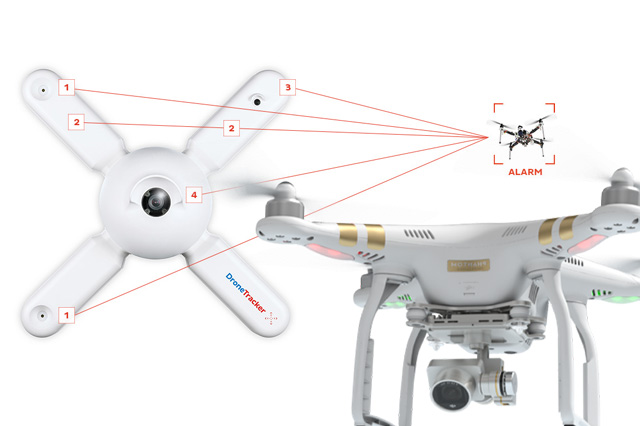 Dedrone has announced that DroneTracker, its flagship Drone detection solution now comes with a built-in jamming device. This means DroneTracker, from now on, can detect and automatically repel drones.
German company HP Wuest created the Jamming device. HP Wuest is one of the market leaders supplying the military and their devices are approved by NATO.
The Dedrone DroneTracker sports several sensors and is equipped with an intelligent pattern recognition software. This is how it works: as soon as DroneTracker identifies a drone, the jammer is immediately activated via an interface. It then transmits electromagnetic waves which interfere with the radio signal between the drone and its remote control unit, snatching away control from its pilot.
Scroll down for video
Also, if a drone is flying on automatic pilot, the GPS signals it uses for for navigation can be jammed by the jamming device, disorientating it. In a nutshell, the end effect in both cases is the same: the drones are disoriented and the manufacturer's pre-programmed safety procedure generally cuts in. This means the drone goes back to the place it started its flight from, lands immediately, or remains hovering there in mid-air.
"In general, remote-controlled drones only operate in a certain frequency range", Alexander F. Wuest, CEO of HP explains. "Our jammer is configured to specifically target the drone's frequency range and stop it without causing any damage," he added.
It definitely makes more sense to jam drones than to treat them as Boeing does- shooting them down with a laser cannon. Jamming them is more economical as it prevents bad blood between drone owners and indignant property owners.
According to Dedrone co-founder and CEO Joerg Lamprecht, the DroneTracker is installed on the ground around a venue and has a wide array of sensors in its arsenal, capable to detect drones that are either unwanted intruders. It can also be installed to operate overhead, he added.
The Dedrone DroneTracker are generally marketed to prison operators, governments and other institution which are interested in getting protection against over flying drones.
Lamprecht noted drones have been used in the private sector for noble purposes, such as protecting endangered species, delivering medicine to clinics in remote locations, or helping farmers grow more food with less water.
However, civilian drones are also increasingly used in nefarious ways, like dropping drugs into prisons, hacking corporate systems or spying on private citizens, he said. He added that civilian drone accidents could be on the rise just as drone sales are rising.
Based in San Francisco, Dedrone was founded in 2014. The DroneTracker is developed and manufactured in Kassel, Germany, and according to Dedrone, it has already been bought by many customers including prisons, airports, stadiums, police and industrial companies.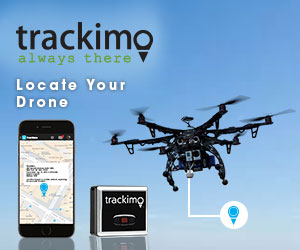 Although identity of these customers cannot be disclosed for security reasons, it is worthy to note that the police in Cooperstown, NY now uses a DroneTracker to protect such events.
Recently, Dedrone raised $10 million in venture funding for systems that monitor the skies and tell people when drones have entered their airspace.
Watch the video below