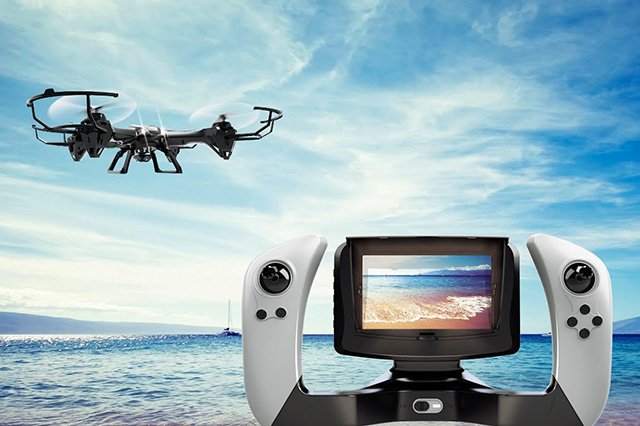 Are you looking for a drone but are on a tight budget? Then this list has you covered. Here, you will find affordable drones under $500 that you can connect with your GoPro or any action camera.
Scroll down for videos
UPair Chase One Quadcopter
Price: $310
A few months earlier, the first UPair Chase was released. It may have been enough to reel in potential buyers, but earlier reviews were not too promising. There were problems with stability, camera recording triggering, and other FPV related issues. The new release takes the same shape as its predecessor, but has since been designed to address the previous problems.
The drone comes with a 4K camera (Firefly 6S), a charger and a 2-axis gimbal.  Features include:
Flying time of 25 minutes
Video feed distance of 800m
Control distance up to 1 km
To address the stability issues, the company developed a GPS stabilized flying similar to that of a DJI Phantom
Return home feature
Gimbal that allows you to rotate the action camera all the way down
It may be a few bucks over a $300 budget, but this drone is worth the investment. The UPair Chase lets users choose between two models: a 2K model that can capture full 1080p HD and a 4k model that is equipped with a camera that shoots 4K at 24fps. You can get the 4K model for $400.
The verdict: The UPair Chase mirrors the features of a DJI Phantom 3 drone, making it a perfect model for beginners. Consider that the cheapest action camera will cost you around $70, and a gimbal runs around the same price. On top of that, telemetry will run you around $100, so paying $300 plus for a UPair Chase truly is a bargain.
Cheerson CX-20 (also known as Quanum Nova)
Price: $219 
The Cheerson CX-20 is another model that resembles the DJI Phantom. This quadcopter is a stable flier with smooth directional transitions, but the only downside is that it may not fly fast enough for drone enthusiasts who enjoy moving at fast speeds.
Features are listed below:
Flying time of 15 minutes with 2800 mAh battery
Control distance up to 300m
Charging time: 2-4 hours
return home function
GPS multi-rotor autopilot system
Software: Mission Planner (for Windows), APM Planner (for Mac) etc.
GoPro Gimbal: included
The verdict: The Cx-20 Quadcopter is equipped with features that makes a great value for your money. This is recommended for beginners who have experience with brushed quads. Users may also configure the hardware and software as needed, making it a very popular model among quadcopter flyers.
Wltoys V303 Seeker Quadrocopter
Price: $365
WLToys made sure that they developed their own DJI clone as well. The V303 is an all-white, plastic drone that is sturdy and easy to operate.
See the features below:
With 6-axis system,can
Directions: Raise & Down/Forwards & Backwards/Left & Right Turning/Left & Right Crab Flying/Hanged Flying/360 2
GPS Auto Pilot Function
Come Home Button Ready
Failsafe and Self Landing
Wifi FPV 300 meters
Gopro camera mount(camera not included)
The verdict: The V303 is complete with recent upgrades that are both fun and useful to fly. With that being said, this model would better suit those who have had experience with quadcopters.
Walkera QR X350
Price: $279.98
The Walkera QR 350 has a longer batter life than most drones. But it does not come with a camera, so you'll have to purchase one separately.
See some features listed below:
Flying Time: 10 -15 minutes
GPS: GPS Auto Pilot Function, Come Home Button Ready
GoPro gimbal included
The verdict: This drone is undeniably the most expensive of the group. But it is complete with a stronger transmitter as well as an overall improvement in terms of quality.
Kai Deng K70C
Price: $119.99
At that price point, do not expect the best quality. This drone is recommended for those who just want to try out drone flying without having to spend so much money.
Some features are listed below:
2MP HD Camera
ESC gimbal provides camera spinning from 0° to 90°
Return home button
Entry level mode- beginners easily control the quadcopter
technical-level mode gives senior players more freedom to show their techniques.
The verdict: This may be the cheapest drone of the list, but if you are serious about kickstarting a new found hobby with drone flying then you might want to go for the Cheerson CX-20 instead.
Blade 200 QX BNF with SAFE
Price: $159.99
By integrating both SAFE technology and powerful brushless motors, the 200 QX is a great action camera platform. Users can even attach a compact HD camera with the drone so you can capture jaw dropping imaged and video. Control functions are awesome too, users will have no problem navigating the quadcopter around during flight.
Listed below are some notable features:
3 flight modes: Stability Low Angle Mode, Stability High Angle Mode and Agility Mode
High performance brushless motors
come home button
Optional camera and mount available, sold separately
The verdict: The Blade 200 is an ideal drone for beginners and video enthusiasts, as Smart Mode allows smooth and steady flying while the innovative SAFE Circle feature prevents the quadcopter from flying dangerously close to the pilot.
It is best to keep track of your drones with a 3G GPS tracking device. Devices like Trackimo help users easily recover flyaway drones. It comes complete with a "Geo-Fence" feature that alerts you if the drone flies beyond a preset safe zone.
To learn more about Trackimo, visit our homepage.
Watch the videos below