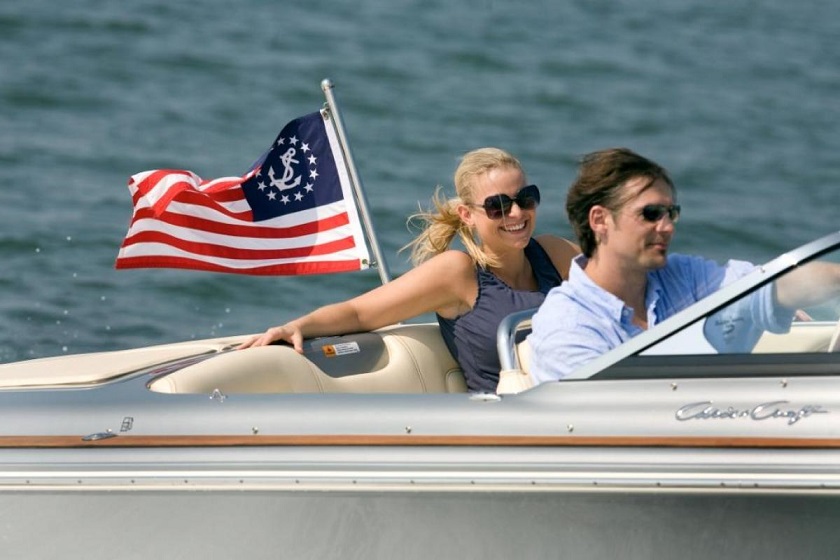 Airbnb is a popular online marketplace that connects people who offer their place for rent with tourists who are unable to find accommodations in hotels and want to rent. Boatbound.com, Boatsetter.com, and Cruzin.com Web sites are similar to Airbnb except that they offer boat rentals instead of accommodation.
The Web sites connect private boat owners and renters. These services allow owners to earn profits and cover the boat's upkeep cost and non owners to experience a day of life on the water with family or friends without buying a boat.
Whether you are a boat owner or a renter, these are the things you need to know, according to Boat Owners Association of the United States or BoatUS:
Scroll down for video
1. Customers prefer renting safer boats
Safer boats basically refer to the newer ones, those that are 10 years old and younger. Older and larger boats may have to undergo inspection. Rental costs depend on the boat size and location. Aside from the rental fee, boat owners generally require renters to give a security deposit. Owners only allow customers with navigation experience.
2. Rental Web sites are directly managed and collect a certain percentage of every transaction
These Web sites normally take about 30–40 percent of the rental fee, which includes operating cost, profit, insurance, and water towing services.
3. Boat insurance coverage
Most insurance providers don't cover boats that are part of rental services for obvious reasons. That's why these peer-to-peer boat rental companies offer auxiliary insurance coverage. However, it's both owners and renters' responsibility to scrutinize the policy. Owners should be aware what will happen in case the boat is damaged, how to process the claim, how much is the devaluation. And in case of a total loss, find out how the insurance would appraise your boat.
For the renters, make sure that you agree to policy being offered while renting, find out the amount you would have to shell out if you damaged the watercraft, and if they cover passengers' injuries.
4. Water towing services are provided for free 
These services are given to other peer-to-peer rental services by TowBoatUS and Vessel Assist for no cost. The renter will just have to call BoatUS' 24/7 nationwide communication (800-391-4869) in case they experience a problem.
5. Most companies don't include the fuel on rental fees
Fuel expenses and other costs are excluded from the rental fees. Renters should verify with the owner what happens to the additional expenses they spent if the boat malfunctions.
6. Boat owners have the right to check and refuse a customer
The owners also have the last say on the rental price. One BoatUS member named Bob Kellet says, he agrees to rent his boat only if he feels comfortable with the renter. He would also sometimes take the renter out for a few minutes to demonstrate how to properly run the boat.
7. Kellet recommends giving the renter a step-by-step instruction
Educate them on how to operate the boat's equipment, from the engine to safety gear.
8. Pre-rental checklist for both the owner and the renter is also recommended
Taking several photographs of the watercraft before departure is a good practice to show its good condition.
9. Trust in both parties is important
Owners should check the customer's renting history, the same with renters, researching reviews of the owner's past renters is also essential to know if the owner's boat can give you a positive rental experience. Setting up a GPS tracking device on the boat is also a good investment.
10. Boat and renter's safety is important
It's acceptable if a boat owner feels anxious in renting his/her boat to a complete stranger, after all, it's a high-value asset. Owners can't be sure if the renter will also take good care of the boat like how he does. But according to BoatUS member Kellet, after a few rentals, he realized that renters also cared about his vessel, because like him, they love boating too.
11. Monitoring with GPS tracking
Now that your boat rental business becomes successful, another problem will arise. You can't anymore use your boat yourself because of the number of clients who want to rent it. Kidding aside, installing 3G GPS tracking device such as Trackimo to your boat can have a huge positive impact on your business. It will allow owners to keep track of their boat 24 hours a day. Renters will no longer need to call you to ask for proper navigation if they get lost at night.
In the event of theft and sinking, you can quickly locate and recover the vessel within minutes through the computer or smartphone. In case of emergency, help is also just a press of a button away, no time will be wasted because exact boat location is readily available. Boat owners can even get as lower insurance fee by equipping their boats with GPS tracking units.
Watch the video below